Breaking the Ice Episode #35: Side Hustles & Mindful #Custserv w/ Sheri Kendall-DuPont

In our 35th episode we had the pleasure of breaking the ice with our good friend, Sheri Kendall-DuPont. She's the Manager of Colleague and Leadership Development at FCR. In this episode we break the ice by talking about our side hustles. Hint: If you live in Oregon, you're going to want to try Sheri's amazing cookies! We then discuss what it means to be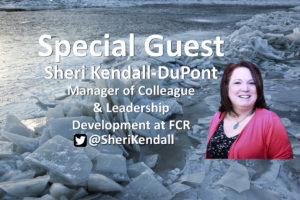 mindful customer service professionals. Leave us a comment with your thoughts on this episode.
Here are the questions for the episode:
Icebreaker Question: What's your side hustle?
Customer Service Question: What does it mean to be a mindful customer service professional?
Leave us a comment below with your responses to these questions and be sure to follow Sheri on Twitter.