Our Customer Service Resolutions for 2017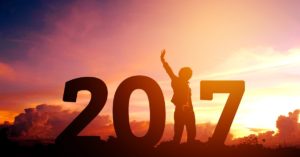 This article originally appeared on the FCR blog on December 30, 2016. Click here to read the original.
Last year I opted to
share my deep thoughts on running
and tied them to some New Year's Resolutions. Let's review those resolutions and see how I did:
Read more books and introduce some variety to the mix- Besides customer service and experience literature, I did read about Attila the Hun, Ready Player One, and a bit about content marketing. I could stand to read more but not too bad as far as variety goes.
Run more hills- I didn't do a great job of working this into my regular running routine, though I did find some folks to run with, and I also ventured onto some cool trails that did have hills.
Take guitar lessons- I didn't take lessons but did practice a whole lot more lead guitar which was definitely a goal. Still a bit more structure here would be good.
Ok, enough about me. Rather than sharing a bunch of deep thoughts, I've grown rather fond of surveying my colleagues at FCR to see what they think.  I recently polled them to see what their resolutions are for 2017. I asked them to share both a personal resolution as well as a customer service resolution. In just a little more than 24 hours I received 180 responses from my colleagues. Here's what they had to say.
What's your #1 Personal Resolution for 2017?
So as not to slant this completely toward customer service, I first asked a general, life applicable resolution question. When asking for a top personal resolution, I served up choices including:
Getting healthier
Reading more
Learning something new
Volunteering in the community
I prefer to steer clear of New Year's Resolutions thank you very much.
Here's how the results looked: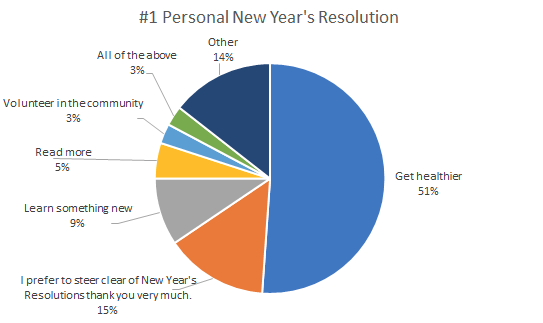 The clear winner was Getting Healthier at 51%. Within this category, my colleagues mentioned some of the usual suspects like quitting smoking, eating better, and getting in shape. Others mentioned improving mental and emotional health, partially thanks to some of the events of 2016, and adopting habits like meditation, mindfulness, and journaling.
15% of colleagues steer clear of resolutions altogether, while 14% fit into the Other category. Some of my favorite others included:
Writing and publishing a book.
Completing a college degree.
Improving guitar and harpejji skills. (Had to Google the harpejji. Cool!)
Making their own clothes.
Embracing being single.
Drawing one picture every day.
What's your #1 Customer Service Resolution for 2017?
And now for a more serious note, let's talk about customer service resolutions. After all, at FCR, our product is customer service. I asked my colleagues to identify their top customer service resolution for 2017. In this case, I gave them a few more preformed options to choose from:
Smile more.
Stay calm and don't take angry customers personally.
Be more receptive to my colleagues who have questions.
Be more comfortable showing empathy to others.
Increase my technical skills to help more customers.
Practice serving others better.
Improve my stats and become more efficient.
I'm already pretty awesome. Expect more of the same in 2017!
Here's what the survey said: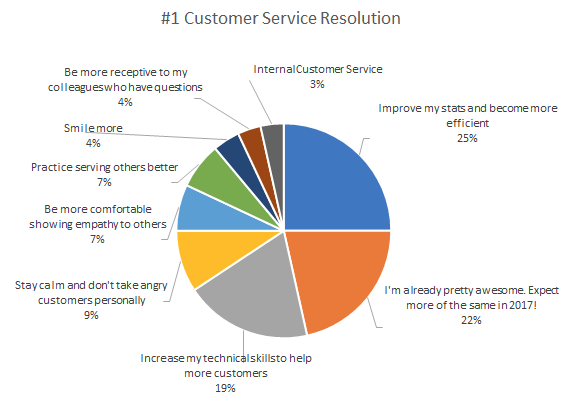 The results revealed three clear winners. 25% hope to improve their stats and efficiency in the New Year and 19% hope to grow their technical skills to be better at helping customers. This puts a large onus on leaders to empower and equip our agents to be able to achieve this goal.
Also in the thick of this are the 22% who said that they're already awesome and we can expect more of the same from them in 2017. Before you go saying things like "over confident," remember that a mark of great customer service representatives is their ability to be consistently great, and to have the resilience to not take the last interaction personally so they can excel on their next one. This is how I read this stat and I think being consistently awesome is a terrific resolution.
Finally, as I was reading through some of the "other" responses I created a new category for Internal Customer Service. Here are a few comments that stuck out to me in this vein.
I want to work on improving my duties as a Supervisor and focus on growing so I can better assist my team.
I'd like to improve on my own skills so I'm better able to help the rest of the team I'm on.
I can always do better at putting others first.
It's great to hear our leaders thinking this way and realizing the impact their internal customer service has on the external customer service of their team.
So there you have it. As you've read through these resolutions, don't forget about the importance of accountability in successfully achieving goals. Whether you're leading a team or a member of a team, take a moment to learn about their resolutions, write them down, and find out how you can support one another.
I think 2017 is going to be a great year — and on behalf of my colleagues here at FCR, I'd like to wish you a very, very Happy New Year. Please take a moment to leave a comment and let us know what your resolutions are and how we can support you.