Breaking the Ice Episode #44: Silly Driving Stories & Emerging #Custserv Channels w/ Andrew Olaleye

In Episode #44 it's a pleasure to break the ice with Andrew Olaleye, Co-founder at Chatdesk. Andrew learned the art of public speaking while working at a Waffle House in high school and still loves that place to this day. Also, if you catch him on Twitter he's likely following Kara Swisher, Joel Embiid, and ChelseaFC.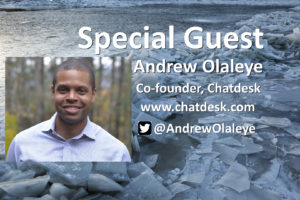 Tune in as we share stories of suiting up while driving, beer goggles, and wearing seat belts. We then moving into a more serious conversation on the various customer service messaging channels like Facebook Messenger, SMS, and Social Media and which ones companies should offer next. Here are the questions for the episode:
Icebreaker Question: What's the craziest/dumbest thing you've done while driving?
Customer Service Question: What "emerging" support channels should companies most consider offering?
We'd love to hear your answers to these questions in the comments below.