Breaking the Ice Episode #45: Screen Detoxes & Falling Into Customer Service w/ Jeff Wozer

The video you are now viewing is Episode #45 of Breaking the Ice. We are so pleased to break the ice with comedian, writer, and speaker, Jeff Wozer. Before we dive into the episode, let's get to know Jeff, shall we? Here are three things you might no know about him: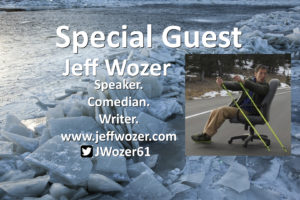 1. Tours nationally as a stand-up comedian. He has worked with some of comedy's biggest names – John Oliver, Martin Short, Brian Regan – and on some of comedy's biggest stages – Red Rocks Amphitheater, Great American Comedy Festival, Las Vegas Strip.
2. Combines his two passions – comedy and the outdoors – to deliver a unique, motivating presentation encouraging people to put down their electronic devices and distract the distractions by getting outside and pursuing experiences rather than likes. Imagine, if you will, Dead Poets Society meets National Geographic with a healthy dose of Comedy Central. http://jeffwozer.com/speaking/
3. Humor articles have appeared in more than 40 national and international publications including ESPN's Active.com, Cabin Life Magazine, and the Explorer Club's Explorer's Journal.
And now, here are the questions for this week's episode:
Icebreaker Question: How did you fall into customer service?
Customer Service Question: Is "screen detox" important? If so, do you break away and encourage others to do so?
We'd love to hear your thoughts on these questions. Leave us a comment below.