Gratitude in the Workplace: Introducing Thankful Thursday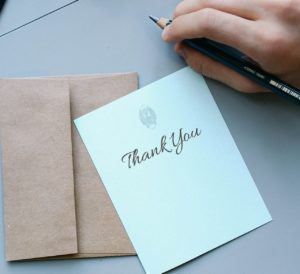 I thank Jeremy Watkin for this one.
Thankful Thursday began as a way to incorporate gratitude into the workplace during our time working at Phone.com. Every Thursday, anyone in the company could take a moment to share their gratitude for something at work or outside of work. Jeremy was the pioneer of this special day, and it brought many smiles to the faces of the team.
As time moved forward, Thankful Thursday was not swept under the rug. Moving into new roles, Thankful Thursday has become an integral part of the culture at my current role with DMV.org, thanks to a coworker with a beautiful heart that decided to bring it to life under a new roof.
According to a Harvard Health Publication:
In positive psychology research, gratitude is strongly and consistently associated with greater happiness. Gratitude helps people feel more positive emotions, relish good experiences, improve their health, deal with adversity, and build strong relationships.
Thankful Thursday, or any day for that matter, is easy to incorporate into your workplace. In Customer Service roles, we're constantly giving our energies to assist our clients and our teammates. Taking a moment out of every week to focus on what we are grateful for encourages us to shift perspective to something larger.
If you're a company that thrives with metrics, the benefits of Thankful Thursday can be measured by gratitude surveys, given out at your desired time frame. Make sure to take measurements prior to starting the program and compare the results to how people respond afterward.
If your team is struggling to find things to be grateful for, after all, they are sitting on the phone/email/chat with people who may be frustrated and angry, check out these examples:
Dear Mikey, thanks for always brightening up my day, even though sometimes I'm grumpy at work. Your positive attitude and invitations to get coffee always make me feel included and happy.
Dear Shane, thanks for always keeping me informed of projects that may affect us here in customer service. Knowing that you took the time to tag me on an assignment for me to stay in the loop of upcoming changes really makes me feel valued and respected.
Dear Tierney & Jason, thanks for always offering to help when we're flooded with tickets, even though customer service isn't your department. It means the world to us here to have your help and insight and I appreciate your time greatly!
Here are 3 steps for bringing Thankful Thursday to your team, and hopefully, company:
3 Steps to Create a Thankful Thursday Program
Thank You Cards
It's easy enough to hop on Amazon and stock up on a box of Thank You cards. Then, make sure you have pens. Crayons or colored pencils are up there on the list, too. Place the cards in a central location for the team to access.
Reminders
This is assuming you've already told the team about the program and how easy it is to share gratitude every week with their coworkers. Take time out of every Thursday (or whichever day you choose) to make an announcement that today is a day of gratitude. My coworker sums it up well in our Thursday morning company huddles, "Take time today to thank someone that has made an impact on you this week."
Do It
No matter who you are in the company, if you're beginning this program, it's your job to actually participate in Thankful Thursday. Once people get a taste of how good gratitude tastes, they'll want to give back. You'll slowly start to notice that it's time to replace those Thank You cards!
If you already have a gratitude program at your company or you're starting one after reading this, I'd love to hear more about it! Please share in the comments!