Mary Had A Little L.A.M.B.
This is an updated version of the post Bahhddd Feedback which I wrote in 2013.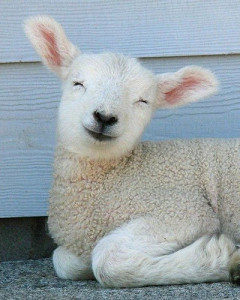 Your customer service representative, Mary, received some negative feedback from a client. Full of anger, the client took to spreading a rainbow of colorful words on Mary's pre-coffee Monday morning shift.
Luckily, Mary works for a company that not only trains but values this exact type of situation. And, Mary is prepared to know exactly what to do.
In a customer centric company, we're always looking for ways to go the extra mile to assist the customer. But, it goes beyond just making sure they are taken care of. Admit it – no product or service is perfect. And, when a client flies off the handle to share their thoughts with you, you tune in. 
Negative feedback can be difficult to handle at the best of times, and it's important to remember that there are professional services that can help in a crisis.
Let me begin by stating why you take the time to tune in when it would be much easier to hang up the phone, not answer the email, disconnect the chat when the negative comes knocking at your door.
Negative feedback is a gift.
Yes, a gift. Picture negative feedback wrapped in a bright polka dotted gift box with a giant bow on the top. It's waiting for you to pull off the ribbon and uncover the surprise. Your customer sees your product or service through an entirely different perspective. And, while they may not always be right about how they see it, the gift has been given for you to take a step forward and improve. We all know what improving a business does, right? Hello, revenue!
Negative feedback is an opportunity for awesome.
Each time a customer shares something negative about your product, you have an opportunity to do it better. Whether it is one customer or 100 complaining about how something doesn't function right, by taking the time to shift your perspective on how feedback is viewed, you're able to take responsibility for your product, which builds trust with the customer and in the end, gives you a chance to improve. And, as I mentioned, you know what happens when you improve, right?
Are you seeing the themes here?
L.A.M.B. is an acronym that I came up with back in 2013 to break down the steps in dealing with negative feedback. I use it often – it remains in my mind every single time a piece of feedback arrives to my inbox. It's simple and high level, but I hope it makes you think about your own perspective on negative feedback.
L is for Listen: We give the customer our ears. What does this customer have to say? Why are they saying it? What happened during their experience to take it down a bad road. You don't know what to fix if you don't listen to the person who is dealing with the broken item/wrong information/bad situation.
A is for Acknowledge: We acknowledge that something went wrong and we take responsibility for what happened. We apologize. A sincere, genuine apology. And, a thank you to your customer for sharing this information is incredibly beneficial as well. Imagine how many people have not said anything and chose to spend their money elsewhere?
M is for Mend: What can we do to turn this situation around? Will it take extra time to sort out? How will we deliver the feedback to the proper department to ensure a resolution? How will we communicate this to the customer?
B is for Better: After the dust clears from the bad experience, we're left with one question, "How can we make sure this doesn't happen again?" By learning from the situation and improving our methods, we're able to set the stage for a stronger product or service.
While this post goes into the WHY we should listen to feedback, there's so much more to say on how to actually set up feedback programs and stay consistent. Also, there's power in gratitude and responding to the positive comments. Stay tuned for more!
For now, I hope you let this perspective shift sink in and when you feel confident, get out there and L.A.M.B. it up, my friends!