A Tail Waggin' Customer Experience
Meet my dog, Miso, an 11-year-old Pekingese with an adorable face and a laid back attitude.
Meet me, a customer service manager working 8am – 5:30pm who sometimes doesn't have time to walk Miso.
Meet Wag!, a dog walking app that a friendly targeted Facebook ad sent my way.
Never having used a dog walking service before, I was hesitant. These folks were coming into our home, when we were not there, to walk my precious furbaby?
I read reviews and decided to reach out to their customer service to get more information on how this works.
Wag! definitely knows their audience: dog lovers with smartphones who are on the go. Their "Customer Happiness" team allows for several woof-tastic channels of support:
After a great experience talking to their team via text message, I was ready to sign up.
Wag! places a free lock box in a convenient location near your home. Only your walker knows the code to open and obtain the key.
You can login to your app at any time and schedule walks, either in advance or within the next few hours. The app looks similar to Uber as it shows the friendly faces of licensed dog walkers in your area that you can request.
You create a profile on the app of your dog and your home. You can share other information about where the leash is kept, special behavioral traits to be aware of while walking with the dog, or keeping an eye out for a cat that also is in the house and may try to escape.
Once you schedule your walk, you receive a text message confirming your appointment(s) and the full name of your walker. You also have access to your walker's profile in the app with a picture, bio, and reviews.
If any questions come up along the way, you can call or text the Customer Happiness team OR you can communicate directly with your walker. The responses are typically within a few minu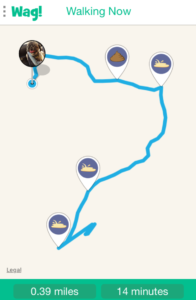 tes to an hour, even at later times in the evening.
The fun begins when your scheduled walk takes place. When I'm at work still and receive the text message notification that Miso's walk has begun, I'm ready to tune in.
Yup – you get a live feed of the walk. You see a general map of their route plus the walker can send you videos (with music) and photos along the way. The walker also marks the potty breaks taken during each walk. (This map does not display streets as it is in a private apartment complex).
At the end of the walk, you receive a "Report Card" for your dog. The walker takes the time to give you insight into their stroll and send a cute picture to make sure you don't feel left out.
Here are Miso and his favorite walker, Alex, after a delightful time together (left). You can see from the description that Alex took the time to personalize the message.
Overall, here's what has my tail wagging about Wag!:
Easy access to and quick responding customer service.
Friendly and helpful customer service agents via multiple communication channels.
Certified, insured, bonded, background-checked dog walkers. (It's no easy task to get hired).
The ability to pick a "preferred" walker to always snag your appointments first.
A free lockbox on the door (no keys under the rug).
Ease in scheduling via the app.
Engaging the pet parent through the app, even though we're not actually present for the service.
Status updates through videos and pictures.
Personalized report cards at the end of each walk.
I've referred Wag! to a few friends and they LOVE it. If you want to give it a try, download the free app for iPhone or Android then use my promo code for a discounted walk:
JENNY8236
This is no sales pitch – I just love sharing great things that make life easier for our readers and want you to get in on the fun.
That said, thank you Wag! for the awesome service you provide to Miso and me.
If you end up trying out the service, let me know what you think!
[custom_author=jenny]