Why I'm Tickled Pink about this Customer Feedback Program
As the customer experience manager for NumberBarn, I'm constantly looking for new ways to connect and build relationships with our customers.
In fact, our company mission statement includes this:
We believe behind every telephone number there's a beautiful idea, opportunity, or person. Let's help create those meaningful connections today. 
We've been receiving a lot of positive feedback lately. Customers sharing their stories with us about how a phone number helped enhance their lives, how an employee at our company went above and beyond or simply how much they love our mascot, The Pig.
Years ago, when I was working with Jeremy Watkin, we created a Customer Appreciation Station for our agents to get creative and colorful with handwritten cards to send to customers. These days, we're all familiar with Chewy's fun customer postcards and heartwarming pet paintings or flowers.
With a stuffed pig staring at me at my desk, I put on my pig onesie (yes, I have one) and got to thinking about what we at NumberBarn can do to show appreciation for our customers.
I drew up the idea, which I'll outline for you below, but could not think of a catchy name. After talking with a coworker, she said,
"Let's call it 'Tickled Pink' because pigs are pink and well, that's ultimately what we're doing – tickling our customers pink."
So, what's the Tickled Pink Customer Appreciation Program at NumberBarn? Here's a sneak peek:
The Tickled Pink program for PIG deal customers is our way of showing our love and gratitude in a personal way. Customer service agents can nominate as many customers as they want to receive a handwritten postcard, NumberBarn pig stickers or a Pig Package, which includes a stuffed pig and other NumberBarn swag.
The customer service agent uses a Tickled Pink Google Form to nominate an awesome customer, sharing their story, how they made a connection with them and details about the customer's situation.
I review the stories, share them with the entire company on a monthly basis and help organize the recipients to ensure delivery of their goodies.
So far, we've had Tickled Pink recipients floored with the arrival of these swine surprises in their mailboxes.
If you follow us on Instagram, you'll find that The Pig is a world traveler. Each employee is given a pig stuffed animal to travel & take pictures with that we share with our followers, like this: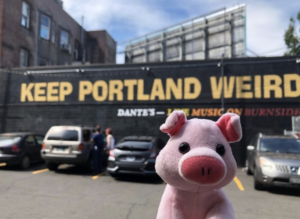 What's so fun about this is customers who receive our surprise Tickled Pink Pig Package is they are now also taking The Pig around the world, sharing pictures with us. They are stoked to be a part of the NumberBarn family as much as we are to have them!
I'm excited to see how this program unfolds and evolves as time goes on. What's a creative, unique way that you show appreciation to your customers? Share with me in the comments or over on Twitter!