Your customer service "Oh Sh*t Kit"
Planning the bachelorette party for a dear friend, I knew that "Oh Sh*t Kits" are a must to include for the bride tribe.
In each "Oh Sh*t Kit", you'll find things like Tylenol, lip gloss, a scrunchie, hydrating face mask, sunscreen, body lotion, an electrolyte beverage, mints, tissues, bandaids and more.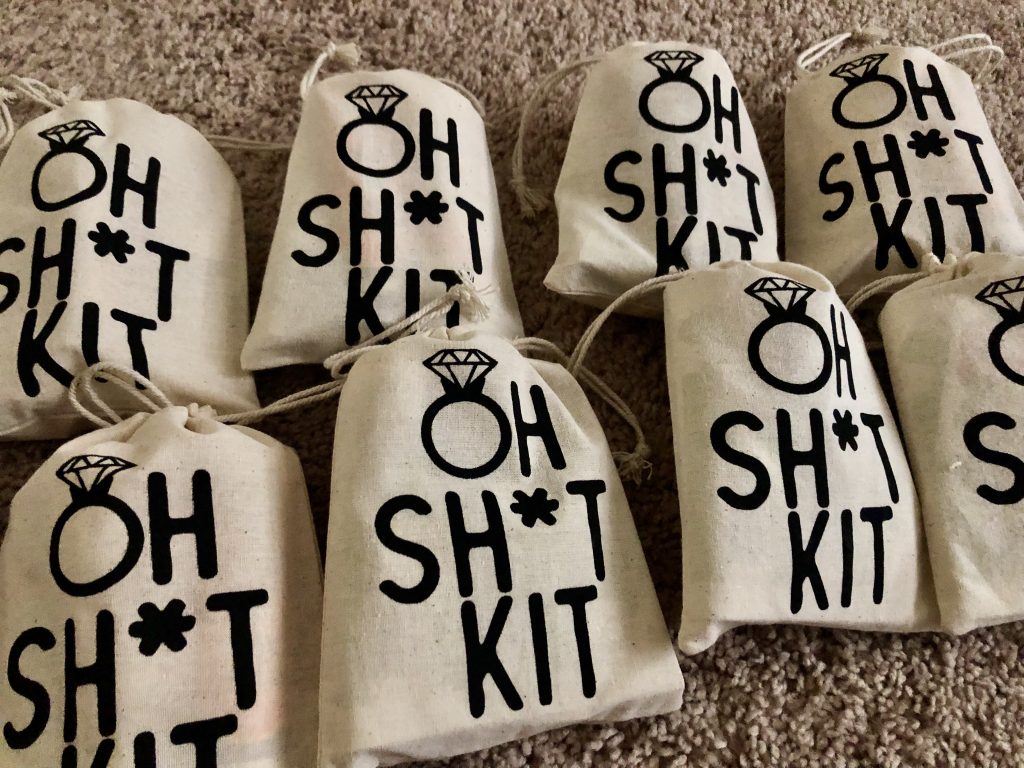 You just never know what will happen and you want to be prepared!
It got me thinking about customer service and how, when working with customers, we may not always know what will happen and we need to be ready for anything. And, we need to do it right!
What is in my Customer Service "Oh Sh*t Kit" may be different than yours, and that's great. You and I can learn from one another. I'm going to share what I include and I'd very much like to know what you'd put in yours.
What's in your Customer Service Oh Sh*t Kit?
Here's the contents of mine:
Empathy statements
In those "Oh Sh*t" moments where you may be caught off guard and at a loss for words, having a resource of empathy statements to connect with customers is critical. This might be one of your coworkers, a manager or an internal resource. For me, I have bookmarked Leslie O'Flahavan's article, 20 Ways to Empathize with Stressed Out Customers.
A recovery plan
A recovery plan is the map a customer service team will follow to resolve issues and rebuild customer trust. This is a "no duh" type of thing but you'd be surprised at how many companies don't have a recovery plan set up for when things hit the fan. Or, even if you do, it may be outdated and irrelevant. There is always room to improve! My go-to for keeping up with the recovery plan best practices is Jeff Toister's book, The Guaranteed Customer Experience.
A mentor or online resource
I can't tell you the amount of times I've sent my colleague, Jeremy Watkin, a message begging, "HELP! I need your insight!" Or, the amount of times I've posted for advice in CX Accelerator or SupportDriven, two global Slack-based communities where you can connect and talk with customer service and experience folks. The ease of being able to talk to someone who has been through what you're currently going through in a safe, non-judgemental environment is priceless.
Feedback
If you're not asking for customer feedback and actually acting on it, you're basically letting your company walk around with toilet paper stuck to its shoes. Or spinach in its teeth. No matter what, it's embarrassing. Customer feedback is a gift to look at your business through the eyes of the folks spending the money. You'll learn a lot and can make significant improvements to help your customers succeed based on what is said. I'll continue to read every piece of voice of customer feedback and build internal systems to get that feedback into the hands of those that can make big change. If feedback is new to you, or you just want a refresher on how to organize it, Hubspot has this great Customer Feedback Strategy Guide.
Ongoing education
I don't consider myself an expert. I consider myself a "student of experience", learning while doing the work. And, there is always something new to learn! I schedule ongoing education time throughout my day to avoid getting sucked down a rabbit hole. When this reminder pops up on my calendar, you can find me reading through Tweets from ICMI's Top 50 Thought Leaders List, checking out articles shared in CX Accelerator or SupportDriven, scrolling through LinkedIn hashtags for #customerservice and #cx, listening to customer focused podcasts like Customer Support Leaders, Press 1 For Nick, Crack the Customer Code and Experience Matters.
Wine
Just me?