3 Observations From My Man Crates Experience
This article was originally published on the FCR blog on March 8, 2019.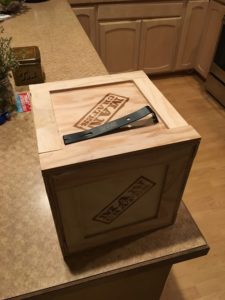 to read the original. 
I recently received a gift — but not just any gift. It was a 
Man Crates.
 Have you ever heard of these folks, because I hadn't? Allow me to share about my experience.I received a box that contained a wooden crate similar to the dad on A Christmas Story when he received his "Major Award" that turned out to be a leg lamp. The box also included a crowbar and instructions to "limber up" because these crates are "a stubborn adversary."
This was evidenced by the fact that my wife and kids tried to open it and ultimately waited until I got home. For the record, it took me a while to find the weakness in the box, but with the aid of a hammer, I eventually got it open and was presented with a whole set up for making stone-grilled pizzas. What a cool gift! Now if the grilling weather would just hurry up and get here.
As I unboxed (or pried open) this product, there were a few things about the experience that are worth highlighting.
Unique, fun, well-branded experiences are worth talking about.
Immediately upon receipt, I noticed the great job Man Crates does at creating packaging that's consistent with their brand. This branding was also consistent as I opened the box, the crate, and examined the contents. The best part about the packaging has to be the picture of a guy surfing on a shark. I'm not sure it gets much cooler or manly than that.
While I don't consider myself to be a manly man, I felt compelled in that moment to toughen up and accept the challenge of figuring out how to open the crate. I also smiled the entire time and was thrilled when I finally saw the contents. The cool factor with this product is off the charts, made all the cooler because I'd never experienced something like this before.
It's okay to suggest that customers share their experiences on social media.
Also on the packaging, Man Crates encourages recipients to document their attempts at opening their crates and share with their networks on social media. That might seem a bit forward to come out and ask for free publicity but the packaging and product are so well designed that it was worthy of a share.
Man Crates didn't even have to ask me to post to social media. It was such a cool experience that I would have posted anyway and now I'm writing a blog post about it. It's important to note that I also wasn't offended in the least that they asked. Had the experience been poor, it would have been odd and off putting for them to suggest that I share my experience.
High effort isn't necessarily a bad thing as long as it's done with a purpose.
The whole concept of customer effort has gained a lot of traction in recent years and the principles are solid. Customers are more likely to continue to buy when they have low effort experiences. That being said, it's kind of fun that Man Crates intentionally goes the complete opposite direction, creating a high effort experience for customers. It's part of their product and brand to make their customers work a bit.
Keeping this in perspective, imagine if I wasn't able to open the box and had to contact customer service. While I didn't test it out, I'm guessing that Man Crates understands that if a customer had a high effort experience contacting customer service, that would diminish the appreciation for the product. A company like Man Crates can be high effort by design as long as they're low effort where it counts — in places like customer service, ordering from the website, and shipping the product.
To conclude, this Man Crate is one of the coolest things I've received in a very long time and I've most certainly earmarked them as a gift option for some of the people in my life. That's the point of all of this, isn't it. Unique and fun customer experiences make for repeat customers and compel them to share with their networks.