Breaking the Ice Episode #31: Podcasts & the Future of #Custserv w/ Jim Rembach

In episode #31 we break the ice with our friend, Jim Rembach. He's a podcaster, contact center thought leader, and Director of Sales and Marketing at Rulai, Inc. Be sure to check out The Fast Leader Podcast and connect with Jim on LinkedIn and Twitter.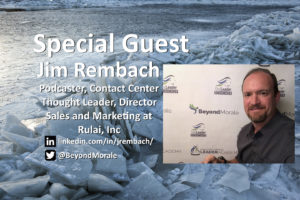 Tune in as we share our favorite podcasts and talk about what it takes to be a contact center leader in 2017. Here are the questions for this week:
Icebreaker Question: What are your top 3 favorite podcasts?
Customer Service Question: What's an essential responsibility of a customer service or contact center leader in 2017?
Leave us a comment below with your answers to these questions.