Breaking the Ice Episode #5: Tips for Attending an ICMI Conference with Erica Marois
In this, our latest episode of Breaking the Ice, I've come to the stunning realization that we have yet to format our title slide the same way twice. Perhaps this will be the one that sticks.
Regardless, we are super excited to welcome Erica Marois, Community Strategist from ICMI as our special guest. Here are the questions for this week's episode:
Icebreaker: What's a favorite memory from your time in high school?
Customer Service Question: What's your top tip for getting the most out of an ICMI conference…or any networking event/conference?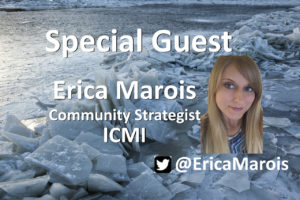 You won't be disappointed with our answers to the Icebreaker question. As for the customer service question, Erica, Jenny, and I will all be attending and speaking at the 2017 ICMI Contact Center Expo and Conference in May and we'd love for you to join us there. If you are attending, here are a few ways we shared to get the most out of the week:
First of all, click here to sign up for the conference.
Join our #ICMIChat on Twitter every Tuesday at 1PM Eastern time to start networking with other conference goers.
Check out the #CCExpo hashtag on Twitter and the conference mobile.
Print out the conference schedule ahead of time to plan what sessions you want to attend, what vendors you want to meet, and what you want to learn during the conference.
Bring business cards and plenty of icebreaker questions so you can network and make new friends.
Let us know if you plan on attending the conference and be sure to leave us a comment with your answers to the above questions.