Breaking the Ice Episode #55: Winning at Social Customer Care w/ Dan Gingiss

We are so thrilled to break the ice this week with Dan Gingiss. He's the author of Winning at Social Customer Care: How Top Brands Create Engaging Experiences On Social Media and Co-host of the Experience This! Podcast. Tune in as we talk about our favorite social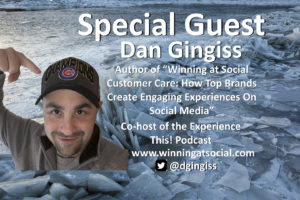 media platforms and then explore what winning brands all have in common when it comes to social customer care.
Here are the questions from this week's episode:
Icebreaker Question: If you could only use one social media platform which one would it be?
Customer Service Question: What's one thing winning brands have in common on social media?