Takeaways from #CCDemo 2016
This article was published on the FCR blog on November 3, 2016. Click here to read the original post.
I recently had the privilege of attending ICMI's Contact Center Demo and Conference in sunny Dallas, Texas. The show featured contact center site tours, inspiring keynote addresses, informative breakout sessions, and a variety of vendors working to take the technology and tools in our contact centers to the next level. Furthermore, the opportunity to network and share stories with other folks in the industry was invaluable.Over the course of the conference I had several "aha" moments. Oftentimes these are little insights that push my thinking on a topic further. I'd like to quickly share five with you.
Turn around customer tone
One of my first activities at the conference was to go on a site tour of Thomson Reuters, The Answer Company. This particular group was supporting their One Source tax software.
As they talked about their quality assurance evaluations in their contact center, there was one insight that stuck out to me. When they are reviewing customer interactions, they review the agent's ability to turn around the customer's tone on the interaction. This may seem a bit obvious but so often we dive into the interaction purely with the goal of solving the problem, or we go the other way and emphasize WOWing customers. But what if a change of tone, a restoring of confidence is our aim? I like that.
On a sidenote, I also really loved this poster in their office where employees put their name next to the aspect of the customer journey they impact. That awareness is essential for everyone whether they talk directly with customers or not.
If are an employee you influence the customer journey. Cool exercise via @thomsonreuters #ccdemo #cx pic.twitter.com/LF1x6e2L1z

— Jeremy Watkin (@jtwatkin) October 25, 2016
Chat as the mermaid of support channels
Talkdesk COO Gadi Shamia shared an interesting talk on the lay of the land for the various customer support channels. I found this graphic (sorry about the clarity) particularly interesting. Notice that where urgency and customer emotion is low, email is a prefered support channel. As urgency increases, SMS (text) is preferred. As both increase, customers want to speak with a live agent. He also noted that he believes video will continue to emerge as a prefered channel.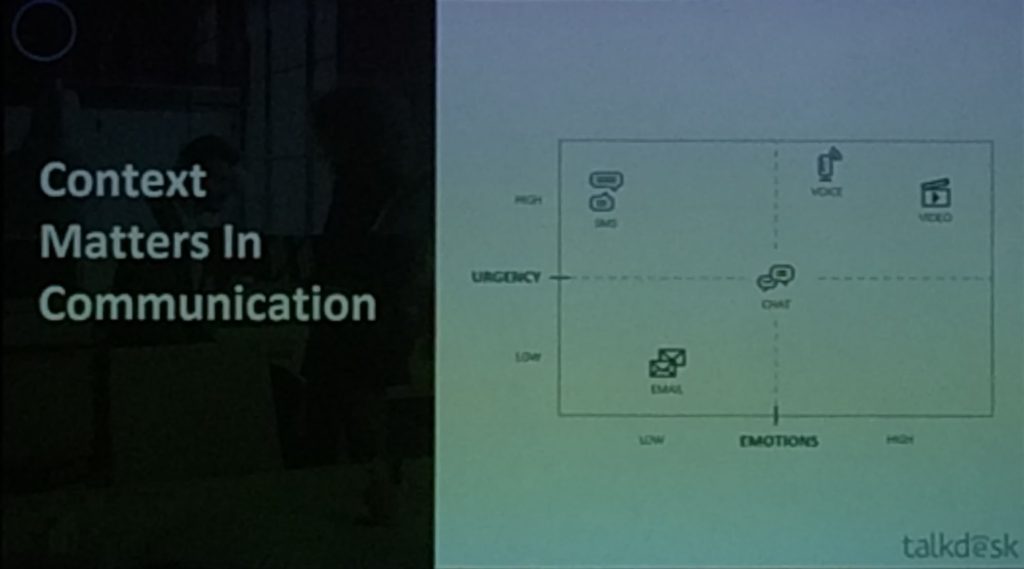 Build empathy into agent onboarding
I've known for a while that USAA is legendary for the way they serve their customers. It was great to hear from Tom Grothues, a Senior Vice President for the company as he shared a bit more about their philosophy at USAA. If you aren't familiar with USAA, they provide insurance and other financial services for current and former members of the military and their families.
Grothues shared a bit about their new employee onboarding process. They have every new hire try on a military uniform, eat MREs (Meals Ready to Eat), and role play by reading letters from soldiers to their families. What an incredible way to help customer service representatives understand where their customers are coming from and be able to better empathize with them.
Do the Gemba walk
I learned a new word at the conference while sitting in on a workshop called "The Big Picture of Quality Data" facilitated by Laura Grimes and Monica Pastrana. It ended up being about a whole lot more than contact center quality assurance but really spoke to anyone aiming to improve a process or get to the root cause of an issue and fix it.
In the talk they shared the Japanese word, Gemba which is defined as "the real place." It's about finding to the source of truth about an issue. One tool they suggested is Five Whys and a How where you continue to ask why until you get to the root cause of the issue. It's always great to add a new word to the vocabulary.
5 Things That Make People Successful
I thoroughly enjoyed Dayna Steele's talk to wrap up the conference. If you're not familiar with her work, check out her website and sign up for her daily success tip. I've been following her for a while and she's terrific. In her talk, she shared a number of stories proving why she wouldn't be a great customer service representative. These included putting Mick Jagger on hold and hanging up on Robert Plant from Led Zeppelin. As a radio DJ for many years, she told stories of encounters with rock legends, former presidents, and even Arnold Schwarzenegger.
At the end of the talk she shared her list of 5 Things To Do Every Day For Success. Very simply the five things are:
Get up early every day- You'll get more done when you're up before everyone else. Allow me to also note that this might mean getting to bed earlier the night before.
Read the headlines and watch the news
Contact someone who can give you money- Whether they can hire you or buy your product.
Get in touch with an old friend
Write a handwritten note to someone
Dayna went on to say that when anyone comes to her asking for help them become more successful she first requires that they do this for thirty days.
Bonus: Marsha Collier
Finally, I'd be remiss if I didn't mention the thrill of getting to meet Marsha Collier. She's the author of 48 books and founded #Custserv Chat on Twitter several years ago. A highlight of the event was participating in #Custserv Chat live on Tuesday evening at 9pm Eastern Time with Marsha, Al Hopper and Jeff Toister. She's been an incredible proponent and visionary for the future of customer service, and she's been instrumental in building a powerful community of customer service professionals.
Happy to share the maiden voyage of my selfie stick with @MarshaCollier @AlHopper_ @nealtopf @chazconner #ccdemo #custserv pic.twitter.com/17ZFan3wCb

— Jeremy Watkin (@jtwatkin) October 27, 2016
To wrap this up, it was a fantastic conference, but don't take my word for it.
Jeff Toister also wrote a great wrap up
that's worth your attention. Were you there? Do share some of your favorite insights from the week.