5 Considerations for Creating a Multi-Channel Quality Management Form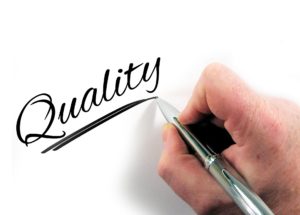 This article was originally published on the MaestroQA blog on June 6, 2019. Click here to read the original post.
If you had to choose, what would you say are the absolute most important items on your quality form? As I work with new clients, I'm often asked that question and I usually list four items.
Communication Skills – How well did the agent communicate the message?
Customer Connection – Did the agent make a human connection with the customer?
Compliance and Security – Did we follow all essential policies and procedures to keep the customer and the company safe?
Correct and Complete Content – Did we give out correct AND complete answers and use our tools effectively to arrive at those answers?
If our agents can be successful in those four things, the result should be a great customer interaction. Wow, that looks like a great foundation for a quality form, doesn't it?
Not so fast. This is a multi-channel customer support operation we're talking about here. It's 2019 and customers can now contact us via phone, email, chat, social media, text, and a variety of other ways through their mobile devices. There's no way we can use one single, simple quality form for all support channels, right? But then, does that mean we need separate quality forms for each channel? That could get complicated fast.
It sure would be nice to have a single, multi-channel quality form that works across all channels. In this article I'll briefly discuss some of the distinctions between the different support channels when it comes to the skills I listed above, and then I'll share some tips to keep quality assurance simple for your multi-channel customer service team.
Communication Skills
There are most certainly differences in communication skills between support channels. In a phone conversation, verbal communication is center stage. We'll evaluate tone of voice, pace of communication (e.g. talking too fast or slow), and the excessive use of annoying filler words (e.g. like, um, ah, mmmmkay, etc). I think we're all guilty of most of these things from time to time but it's important that they don't detract from the message or undermine the confidence with which we communicate.
With text-based channels, grammar and spelling are critical and the message should be communicated clearly, concisely and in a way that's on brand. The messaging should also look good and professional. This means that the paragraphs should be broken up logically with proper line breaks between the greeting, paragraphs, and the signature. Clearly voice and text require different skill sets to communicate the same message.
Customer Connection
I prefer the term connection when talking about our ability to personalize the interaction appropriately for each customer. My typical process for connecting with a customer is as follows:
Greet the customer warmly and use their name wherever possible.
Listen carefully to their issue, acknowledging that you've received and understood, and repeating what you've heard as needed to make sure you're both on the same page.
Respond empathetically to whatever the mood and tone of the customer and conversation is.
Communicate that you're willing to help and that you're taking ownership of the customer's issue until it's resolved.
While I believe these basic skills span all customer interactions, there are most certainly differences between support channels. For example, in a phone or chat conversation, this process can take multiple minutes of the call — longer if the customer is really fired up. Via email, this may all be wrapped up in your first two sentences. I like to refer to our ability to empathize with other people as a superpower and we'll have to use it here as we aim to connect authentically with the human being on the other end of the line regardless of the communication channel we're using.
Compliance and Security
Security is a critical component of quality review, but this too may look different depending on the channel. For example, perhaps there's an extensive authentication process when customers contact you on the phone where they need to verify three pieces of information. Customers writing in via email on the other hand, can't even send a message unless they're logged in, so they enter the queue already authenticated. Or what about social media where you simply can't talk about their account at all because it's a public facing channel? Or what if your team is placing outbound phone calls and needs to let the customer know that they're on a recorded line.
Correct and Complete Content
This category probably has the least amount of variability by support channel. Correct answers have more to do with the type of work the agents are doing than the channel. There are a couple things to note, however. First, text-based channels can tend to be more macro-based, so you'll want to evaluate the correctness of the selected macro. You'll also want to evaluate the way the agent used their tools during and after the interaction which will vary by channel as well.
Considerations for Creating a Multi-Channel Quality Form
It's clear that by virtue of the channel there will be differences in how you evaluate quality, but before you go creating multiple separate quality forms, let's think through this a bit more. Here are some tips if you want to make a run at a single, multi-channel quality form.
Keep your form relatively simple. I encourage our teams to think through the essential parts of every customer interaction when building a quality form. Remember that the longer your form, the longer it takes for your team to grade interactions. It's painful when a supervisor has to listen to a call three times to grade it because they can't possibly catch all of the points on the first couple passes. A simpler form means we can evaluate more interactions and spend more time coaching our agents. I recommend keeping your form to 6-12 items that fit under the categories I shared earlier in the post.
Create a quality definitions guide. The key to keeping a form simple is to define it well and define what each item on the form means for each channel. For example you might have one question for "Greeting" to gauge that your agent appropriately greeted the customer. It's critical for all channels but also may look much different depending on the channel. Outlining these differences allows you to be specific while keeping your form fairly generalized, helping reviewers grade according to the channel while using the same form. This guide is also a great way to ensure that the entire team is well calibrated as we use it as our guide during calibration sessions.
Use NA for certain questions. Do you have one or two questions that only apply to one channel and that's the only difference on the forms? For example, if your agents have to tell customers they're on a recorded line, that only applies to the phone. Rather than creating a separate form it's not a huge hassle to use NA on one or two questions that simply don't apply.
Grade the entire interaction. I don't have the numbers to prove it, but I'll venture a guess that for many multi-channel environments, we're communicating with customers on multiple channels to resolve their issue. This might mean a follow up email after a call or chat or it could be an outbound call to a customer who sent a direct message with their phone number to you on Twitter. It's critical to look at the full interaction from start to finish and that might mean reviewing more than one channel in the same quality review. Your form should be able to support this.
Slice and dice by channel and question in your reporting. A quality tool like MaestroQA will allow you to note which channel you're evaluating and slice and dice your quality results by channel. I find the most value in going a level further and reporting by individual question. This analysis is invaluable to pinpointing the areas where individuals and the team as a whole excel and where they require focused coaching and training.
On a final note, at the end of the day, you may still find that you need multiple quality forms because the work varies significantly depending on the channel — and that's okay.
While it can certainly add complexity, it's exciting that we're increasingly able to connect with and support our customers based on their preference. That's what it means to be a modern contact center.
The good news is that modern doesn't have to overcomplicate your quality process. Keep your focus on evaluating communication skills, connecting with customers, complying with the regulatory stuff, and giving correct, complete answers and always prioritize coaching and developing agents. This can typically be accomplished with a single, multi-channel quality form.